An investment that resists hurricane force!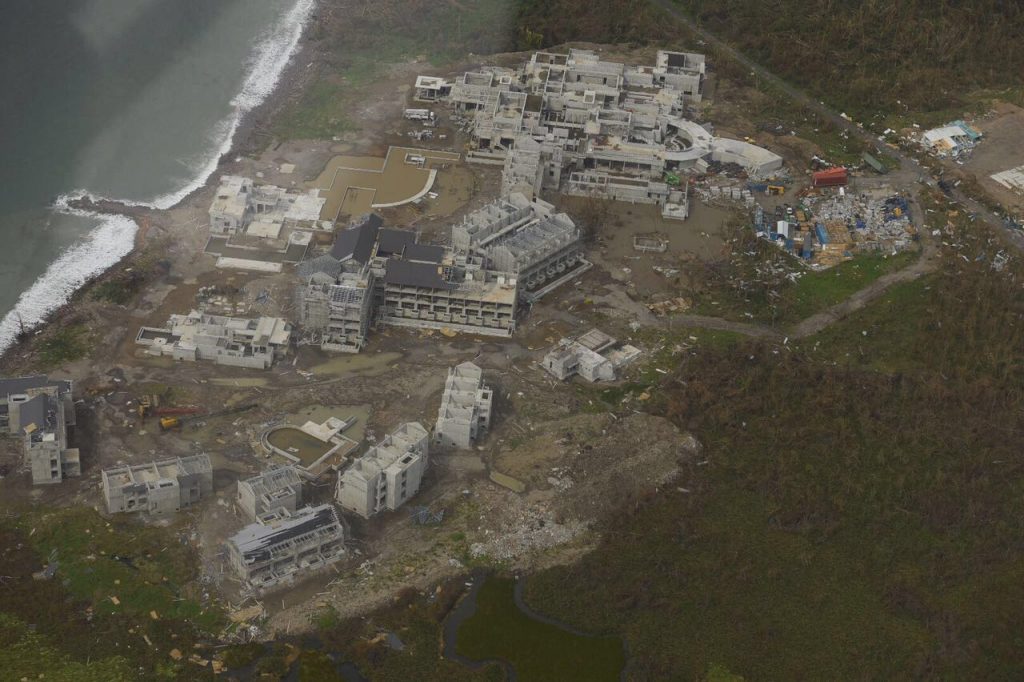 Aerial view after hurricane Maria of Kempinski resort under construction.
Work on Cabrits Resort Kempinski Dominica to restart after hurricane Maria
October 6, 2017., The Cabrits Resort Kempinski Dominica, situated on the North shore of the Island near Portsmouth and still under construction, stood firm as the hurricane passed through. The fact that category 5 hurricane Maria did not cause considerable damage to the constructions shows that investors in this project can be assured that their property will be hurricane-proof in the future. Range Developments is committed to resuming work imminently, as soon as the supply chains restart.
"The best thing we can do for Dominica is to begin construction as quickly as possible to ensure the wheels of economy start turning through returning people work" said Mr. Mohammed Asaria, Vice Chairman of Range Developments. "We are committed to Dominica and categorically are not leaving. We have a hotel to complete and we will do so with our full commitment. Our responsibility is to our investors and equally to the people of Dominica to ensure sustainable job creation is maintained."
Range Developments supports the people of Dominica.
The country has started on the long path to recovery. Essential utilities such as power, water and telecommunications are beginning to return to communities island wide. Roads are beginning to be cleared, while the airports are re-opening.
As the reconstruction of the island's infrastructure gets underway, Range Developments has lent support to those who have been most affected near its development. It has already sent down a helicopter of urgent supplies, carrying essentials such as food, water, clothing and baby supplies, as well as assisting with the transportation of relief from neighboring St Lucia by boat.
Range Developments' CSR team in the coming days will be identifying a number of long term initiatives to support in the Portsmouth area with a key focus on education and social welfare.
Citizenship by investment
The Cabrits Resort Kempinski in Dominica is the first government approved real estate project in Dominica under the country's Citizenship by Investment Program. A minimum investment of US$ 220,000 in the project, with additional Government fees, will entitle investors and their families to a citizenship of the Commonwealth of Dominica. It is currently under construction and the most advanced of any government-approved project on the island. Based on income and capital gain projections, the investor is expected to receive an amount equivalent to the capital invested an all fees that were paid at the outset, following the expiry of a mandatory 5-year hold period.